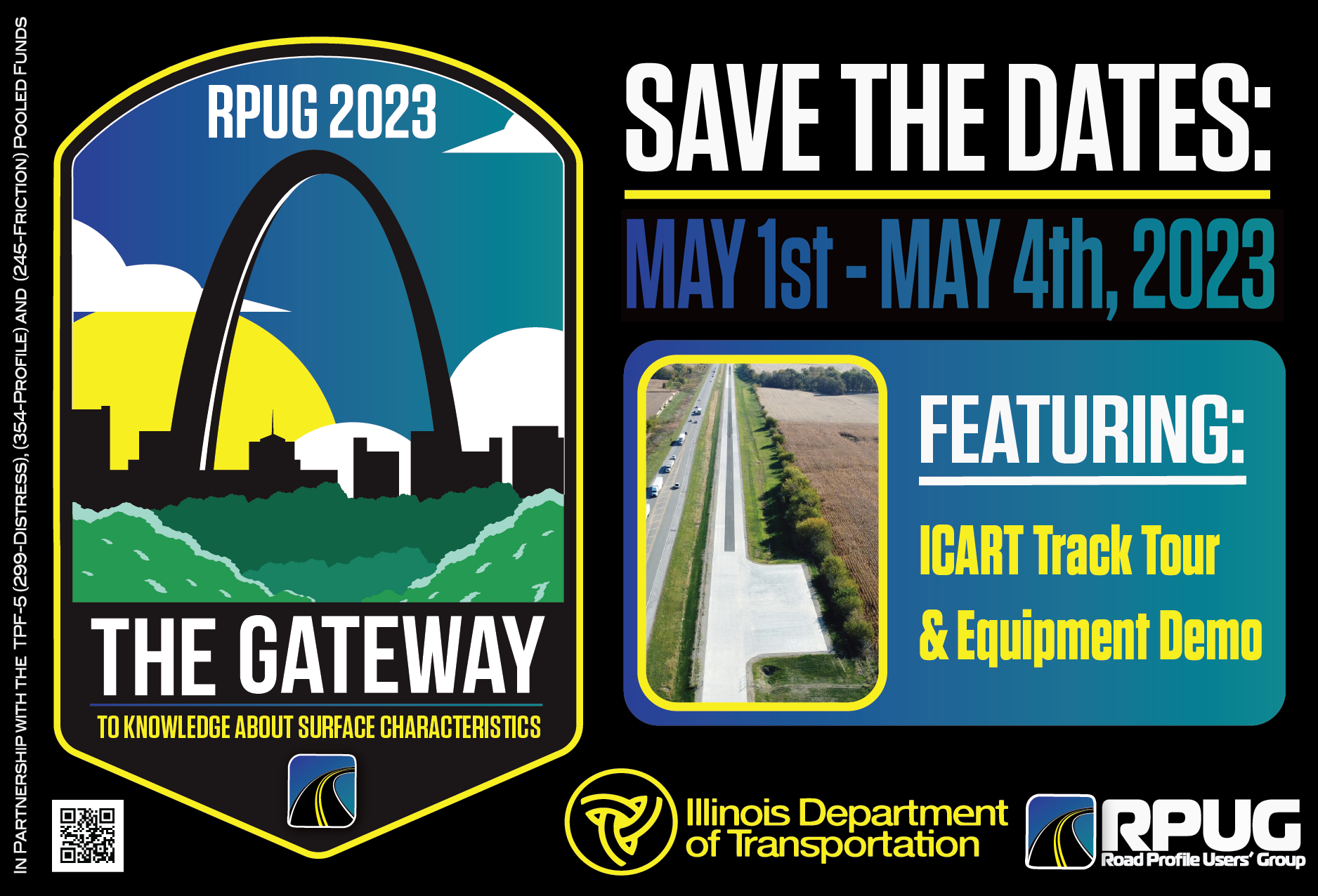 The 2023 Annual Road Profile Users' Group (RPUG) conference will be held at just outside of St. Louis in O'Fallon, IL. from May 1-4 2023.
The theme for the 2023 RPUG conference is "The Gateway to Knowledge About Surface Characteristics."  The meeting will also feature a tour and equipment demonstration at the Illinois DOT Certification and Research Track (ICART) facility.
Quick Links
Navigator Links:
Travel-Related Links:
Workshop Links:
Who Should Attend
Equipment Operators & Vendors
Pavement Management Engineers
Construction & Design Engineers
Researchers
Federal, State & Local Gov. Agencies
Paving Contractors
Data Collectors
Universities
Equipment Manufacturers
Consultants
Tire Industry Professionals
Call for Presentations
RPUG encourages you to share the latest-&-pertinent topics in presentation form on the following topics:
Network Pavement Surface Measurements under the FAST Act and DOT Data QA Plans
Automated Pavement Condition Surveys, Evaluation, and Reporting
Pavement Profile Measurement, Analysis, and Ride Quality
Pavement Surface Texture
Tire-Pavement Friction
Tire-Pavement Noise
3-D Pavement Surface Measurement Technology
Pavement Profile Quality Assurance (QA) and Reference Measurement
Incentive/Disincentive Programs
Real-time Surface Properties Measurement
Influence of Surface Characteristics on Rolling Resistance and Vehicle and Tire Wear
Jointed Concrete Pavements (JCP) Curvature and Impacts on Roughness
National Data Collection Standards and Certification
Impact of Ride Specifications on Construction Practices
Please submit a presentation abstract of 300 words or less in a one-page MS word document via the RPUG contact page using "Abstract for RPUG Presentation" as the subject line.
Important Dates
December 15, 2022 – Call for Presentation Abstracts
February 15, 2023 – Deadline for submitting abstracts of presentations
February 28, 2023 – Notification of accepted titles/abstracts for presentations
March 30, 2023 – Deadline for the early-bird registration
March 30, 2023 – Deadline for the early-bird hotel reservation at the conference rates
April 4, 2023- RPUG 2023 Virtual Orientation Meeting #1
April 11, 2023- RPUG 2023 Virtual Orientation Meeting #2
April 17-28, 2023 – ICART Test Track open for vendor access. Click here to book
April 25, 2023 – Deadline for submission of presentations (including visual aids) & bios
May 1-4, 2023 – RPUG conference
Agenda
Click here to download the "At-A-Glance" agenda.
The detailed agenda will be made available after abstracts are selected.
Hotel Reservation
The meeting will be held at the Regency Conference Center.
Address: 400 Regency Park Drive O'Fallon, IL 62269
Phone: (618) 624-9999
Hotel accommodations for the meeting are at the adjacent Hilton Garden Inn:
Address: 360 Regency Park Drive O'Fallon, IL 62269
Reservations can be made for the block of rooms RPUG has reserved using the code "ROAD23" no later than March 30, 2023. You can either click here to register online or call (618) 624-4499 and ask for the RPUG conference group rate.
Ground Transportation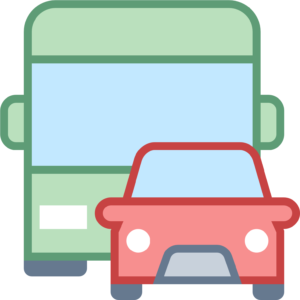 There are several options for travel from the STL airport to O'Fallon, IL. Most users have elected to use Uber, Lyft or Taxi.  Public Transit buses also make this trip.
Also, click here to view other public transport opportunities from STL Airport.
Sponsorship
Click here to view meeting sponsorship opportunities.
Registration Fees
A registration fee of USD $450 is required. A late registration fee of USD $500 may apply if passing the early-bird deadline.
Equipment vendors are invited to attend the meeting to exhibit their products. Exhibitor registration of USD $2,000 includes two participants.
You can register by either:
Download the registration sheet and fill out the registration form on the last page. Then, Mail: (with payment) National Center for Pavement Preservation, 2857 Jolly Rd. Okemos, MI 48864.
Invitation Letters and VISA Requirements
If you are traveling from a foreign country to the US, please the US VISA requirements.
Contact us if you need any assistance, such as an official RPUG invitation letter.
Continuing Education (CEU) Credits
We will also offer certificates of continuing education (CEU) credits to RPUG attendees upon request.
RPUG Navigator Program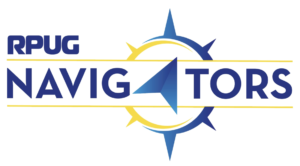 Returning for 2023 is the RPUG Navigator Program started last year, aimed at helping all RPUG meeting attendees feel welcomed and included, and promote a sense of community within the group.
Click here to learn more about the program
Click here to sign up for a RPUG veteran "tour guide" to take advantage of the program, or simply talk to anyone at the meeting with the Navigator logo on their badge or wearing a yellow vest.
Contacts
Registration, sponsorship opportunity, and CEU credits: Contact Patte Hahn of the National Center for Pavement Preservation at +1 (517) 432-8220 or email hahnp@egr.msu.edu.
Presentation/Moderating Sessions: Email Info@RPUG.org or use the RPUG contact page.