The Road Profile Users' Group (RPUG) 2018 conference will be held in Rapid City, South Dakota, USA from September 18 to 21, 2018. This conference is also the 30th anniversary of RPUG. The conference theme is "1989-2018 On The Road To Progressively Better Data."
You are invited to submit an abstract for presentation at RPUG 2018. Topics include:
Network Pavement Surface Measurements under the FAST Act
Automated Pavement Condition Surveys, Evaluation, and Reporting
Pavement Profile Measurement, Analysis and Ride Quality
Pavement Surface Texture
Tire-Pavement Friction
Tire-Pavement Noise
3D Pavement Surface Measurement Technology
Pavement Profile Quality Assurance (QA) and Reference Measurement
Incentive/Disincentive Programs
Real-Time Surface Properties Measurement
Influence of Surface Characteristics on Rolling Resistance and Vehicle and Tire Wear
Jointed Concrete Pavements (JCP) Curvature and Impacts on Roughness
National Data Collection Standards and Certification
Impact of Ride Specifications on Construction Practices
There will also be panel discussion on the following topics:
Data Quality Management Plans
Switching to IRI Smoothness Specifications
Please submit a presentation abstract of 300 words or less in English through the contact form. Please use "RPUG 2018 Abstract" as the subject line. The deadline for submissions is June 15, 2018.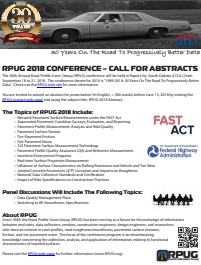 Download Information:
---
About RPUG
Since 1989, RPUG has been serving as a forum for the exchange of information between end users, data collectors, vendors, construction engineers, design engineers, and researchers who have an interest in road profiles, road roughness/smoothness, pavement surface textures, friction, and tire-pavement noise. A dissemination of knowledge concerning the collection, analysis, and application of information relating to functional characteristics of traveled surfaces is the focus of the conference program. RPUG.org is maintained by The Transtec Group.